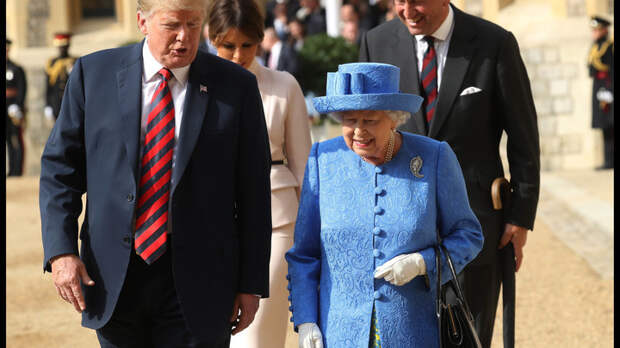 Президент США оказался настолько невежлив, что оттеснил королеву Елизавету II на устроенном ею же приеме.
В интернет-среде активно обсуждают очередной конфуз президента США Дональда Трампа, допустившего поистине некоролевский поступок. Инцидент произошел во время встречи хозяина Овального кабинета с британской королевой Елизаветой II.
Ранее в СМИ появились видеокадры, на которых видно, как монаршая особа безуспешно пытается обойти идущего впереди Трампа. В какой-то момент президент и вовсе останавливается, преградив Елизавете II
путь.
Чуть впереди Трамп старался держаться и впоследствии, когда в компании королевы прошествовали вдоль гвардейского строя.
Такое появление американского невежи заставило пользователей соцсетей окрестить его «увальнем».
«Да кто он вообще такой», - возмущаются в соцсетях.

That blimp actually walked in front of HRH Queen Elizabeth?! What even is he?

!
Резюме, которым поделился один из твиттер-пользователей, оказалось нелестным для президента США: «Клоунада у всего мира на глазах».

Unbuttoned jacket, walking in front of the Queen. Buffoonery for the world to see.
Отдельно напомним, что ранее Трамп заставить королеву подождать себя 10 минут - невежливость президента США простерлась до того, что он опоздал к Елизавете II на чаепитие.
https://tsargrad.tv/news/klounada-na-ves-mir-oskorbiv-anglij...